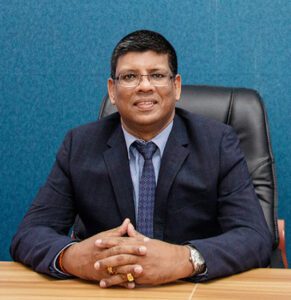 Mr.Sivarajah Thumilan
Group Chairman / CEO
ACA, ACCA, ACMA(UK), CGMA, CPA(AUS), MCSI(UK), FMAAT(SL), ACS
THE BLUE OCEAN GROUP'S PROVEN STEPS TO INSPIRE CONFIDENCE AND SEIZE NEW GROWTH
The specialty of the Blue Ocean Group is that, having foreseen these challenges, the group has set a clear strategic path, set by professionally qualified and experienced corporate planners under the leadership of its chairman, Mr. Sivarajah Thumilan. As a result, the group is now geared to provide for the needs and wants of the different social groups almost intuitively and, in the long run, support the government in its quest for self-sufficiency even amidst the crippling hurdles thrown by the pandemic and the global economy. It continues to play to its strengths and reshape its strategies, including investing in markets where the government is committed to long-term infrastructure programs and choosing to exclude regions and sectors that cannot provide profitable, low-risk growth. Despite these challenges, the Blue Ocean Group has continued its policy of offering quality apartments at reasonable prices to the general public and foreign investors.
The group is also aware that the industry is riddled with unscrupulous builders who adopt a "hit and run" approach with their projects. Lack of qualifications, competent staff, sufficient experience, finances, or access to good-quality building materials have led to this attitude, which in turn results in higher cost and time overruns, culminating in customer disappointment. The vision of the Blue Ocean Group is "to be the most highly respected and ethical company in the industry," standing as a stark contrast to such builders and safeguarding the ethics in the industry, being true to their dedication to integrity, quality, discipline, flexibility, safety, and service. The group's priority is executing their already strong order book, which is foreseen to drive attractive cash generation and returns in years to come, providing the group with a strong foundation to stand on.
The Group's dedication to building, maintaining, protecting, and enhancing their reputation as the most ethical, efficient, and trusted company among their employees, clients, customers, supply chain partners, investors, and the community at large has safeguarded their position in the market as pioneers and trailblazers in the industry, while their robust approach to corporate responsibility has ensured delivery of the highest quality within budget. Their strong and sturdy foundation, built over many years of trust, dedication, loyalty, and steadfastness, is what helps them stand strong even in the face of the storms that an unstable economy brings.
Copyright © Kelsey Developments PLC. All Rights Reserved. Concept & Design by KBA
Kelsey Developments PLC is a Subsidiary of Blue Ocean Group of Companies.